**Welcome to my newish blog! I've been wanting to change the name for awhile, and I finally did it! The reasoning: I love sugar, purple, and running so, the Sugar Plum Runner! Josh's cousin's wife Charlene came up with the name, my SIL Whitney made the header, and my BIL Daryl did the technical stuff. I'm so lucky to have such talented people around me;) There's still a lot more to do, but I hope you'll stick with me during the process. Until then, enjoy my review and giveaway!!**
Workout
Thursday- 3 miles on treadmill
I ran 1 mile then did 50 crunches
ran 1 mile then did 25 squats and 25 lunges
ran last mile and then did 50 arm workout(mostly bicep exercises)
During the last month of been wearing my new headphones, PowerBeats and today I'm ready to do a full review!
Beats By Dr. Dre PowerBeats In-Ear Headphones Review
I was contacted by Staples to try out their new active headphones. You wouldn't think of Staples to get headphones and I was skeptical at first, but when I browsed their site, I was impressed.
I chose the PowerBeats headphones because the description said they were sweat resistant. I tend to sweat a lot when I run, so I need headphones that can withstand that. I have tried a lot of headphones.
The #1 problem that I have with the above headphones is they start to crackle after awhile. The music isn't clear and I'm fighting to hear the music over my treadmill or even my own breathing when I'm outside. Here are my pros and cons to the PowerBeat Headphones.
PROS
I love how clear the sound is-I literally cannot hear the treadmill when the PowerBeats are in my ear
They stay on my ears when running because they hook around my ear(shown below)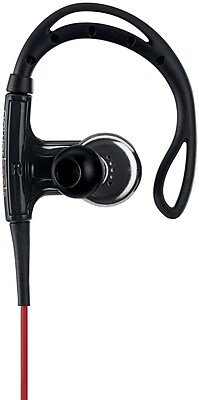 I can control the volume and pause the music from the cord-I love not having to get my phone out of my pouch when I simply need to turn up the music or pause it
They come with a great case that protects the headphones when their in my diaper bag
Comes with different sized ear pieces to fit your ear perfectly
sweat resistant
CONS
The cords wind up-really the only downside is that these aren't wireless
took me a second to get the hang of putting them in my ears
They are more expensive($149.95) than the cheap ones I used to by at TJ Maxx but I used to have  to buy a new pair every couple of months.
If you're in the market for a new nicer pair of headphones PowerBeats are great! I used them for my half on Thanksgiving and they didn't fall out once.
Staples Giveaway
Staples is giving one SPR reader the chance to win a pair of headphones worth up to $100!!
To enter: Leave a comment saying what pair of headphones($100 or less) you would choose from their site here! (Open to US residents only)
For an extra entry: share a link to this giveaway on instagram, facebook, twitter, or your blog, leave a separate comment telling me you did so.
Contest will end Monday 12/16/13 @ 8pm MST, winner announced Wednesday 12/17/13
Good luck!
Disclaimer: This post is sponsored by Staples, I was given the headphones. All opinions are my own.